Halloween Costumes Perfect For Travelers
|
Halloween is in 4 weeks!! If you're traveling around and think you can't have a cool costume for Halloween, you're wrong. There are plenty of do-it-yourself costume ideas out there, and some will require almost no work and the budget of a cheap Polish beer. You might just need to borrow a lamp shade or a broom stick from the hostel you're staying at. Ask the hostel staff about any goodwill stores nearby, you're bound to find lots of cool accessories to help you make the perfect Halloween costumes!
Silent Movie Actor
Easy to make! Grab your normal black clothes from your suitcase, and apply white powder (bought from the dollar store) over your face, neck and arms. Ask the hostel staff to print something resembling a screenshot of a silent movie dialogue, and voila!
Bandit
This one is also easy to make by looking through your rucksack. If you've got a stripped shirt, perfect! Find a pair of gloves and a white plastic bag. Draw a money sign on it!
Jellyfish
Got an umbrella? This one is for you. Cut basic paper and plastic bags into long pieces and attach them to an umbrella to turn yourself into a sea creature in no time. Bonus point if you do this as a group. About during a hostel pub crawl?
Famous attractions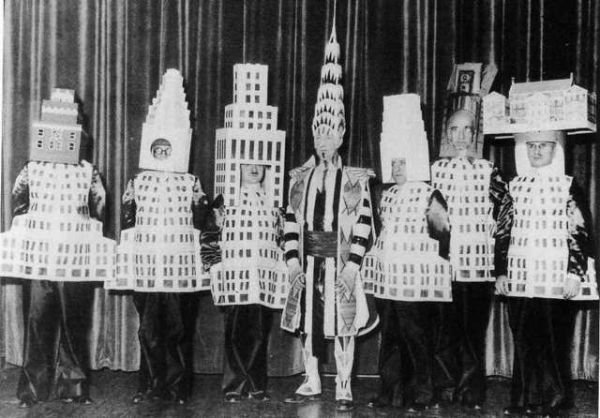 If you do have time to spare, how about dressing up as a popular attraction? Whether it is a bridge, a tower or even a full skyline, start working on it now!
Dominos
This would be another perfect Halloween costume for a group of travelers, another winner for a fun pub crawl! Just wear all black, and stick big paper dots and lines all over you!
Trash Bag
Grab a trash bag, wrap it around you, and stick bits of trash all over it. Easy, and ready in no time!
Cereal Killer
Get on the pun wagon with this cereal killer costume. Find empty boxes of cereal, glue them onto your shirt, stick some plastic knives in them and splatter some ketchup all over yourself. 
Free Food Shelf
Well, the most hostel-related costume! This was from a coworker a few years back. He grabbed some 'Label your food' stickers, stuck them on his shirt along with stuff found on the free food shelf, like plastic spoons, ketchup packets and tea bags. Definitely quick and cheap!
What will you be this Halloween?
Say something: